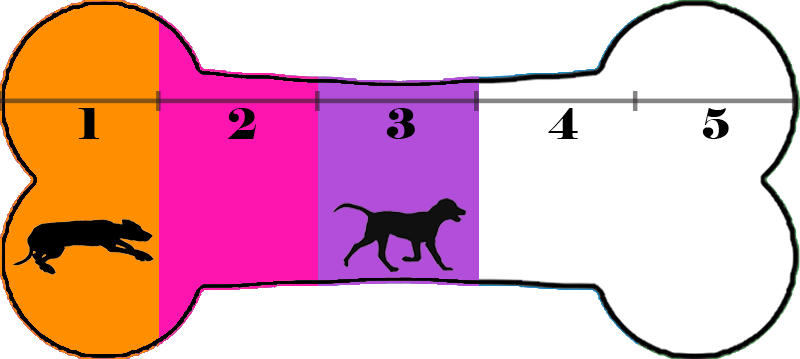 Energy Level 3 - Enjoys walks, mental stimulation, and some playtime.
Seven (also known as Maggie) is guessed to be a Hound mix about 3 years young and weighing around 44lbs. Click here to see her adoption video!
When she first arrived at OPH, this happy girl needed to improve her manners so she was enrolled in an awesome training program called Happy Hounds Prison Dog Program!
Her foster mom is happy to report that Maggie has been an excellent house guest since graduating from the program. Initially, she was timid as she adjusted to the loss of a structured regimen and learned to trust her new family. It has been wonderful watching this precious girl blossom and start to show her fun personality. She has a typical young dog energy level. She enjoys being active, but also likes to relax and take naps while foster mom is teleworking.
Below are a few things about Maggie!
Maggie is a very sweet and smart girl. She loves to snuggle and knows basic commands. She is always paying attention to you and learns new words/phrases quickly.
Maggie is a very happy girl who loves to play. Once she gets to know you, she will greet you with happy tail wags and wiggles. Inside, she loves playing with toys, especially soft toys with squeakers and tennis balls. She likes to play fetch, hide and seek, and tug of war. Outside she likes to follow her nose, explore the yard, and chase squirrels and rabbits. She would do best in a home with a fenced in yard where she can run and play.
She likes to play with other dogs, especially if they also like to run and explore. She does not like to play too rough. If another dog is trying to play too rough, she will opt to lie at your feet and just enjoy the sunshine.
Maggie likes to go for walks. Foster mom walks her 1-1.5 miles every morning and evening. She has been making great progress on her leash manners, but sometimes zig zags when an interesting scent catches her attention and still gets overly excited by dogs walking towards her. She is not a fan of fast moving bicyclists.
She enjoys car rides, especially when they go somewhere fun like a doggie play date or a new place to explore with her humans.
She warms up to women quickly. Men need to give her a few minutes to warm up and let her say hello when she is ready. 
Maggie would do best with an experienced dog person who understands that she needs time to adjust to a new home and who will pay attention to her cues, as she may occasionally resource guard when she is not yet fully comfortable in a new setting.
Maggie is house trained and crate trained. She even enjoys spending time in her crate and often chooses to nap in her crate during the afternoon.
She sleeps through the night. She is content to sleep in her crate, but would prefer being in bed with you. In the morning, she likes to give kisses, get lots of love, and share your pillow.
Click here, here, and here to see me playing with her dog friend!
Click here and here to see me running outside!
Maggie is looking for her forever home. Apply today!