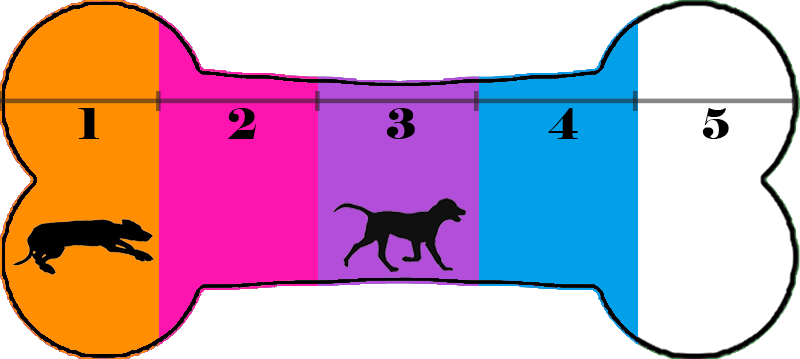 Energy Level 4 - Needs 1 hour of a mixture of off-leash playtime and or mental stimulation every day.
Allderman (fondly called "Pandy" by his foster mom because of his panda eyes) is estimated to be a Border Collie and 11 months old. He's super sweet and weighs about 53 lbs.
Click here and here to see him in foster care!
This handsome, eye-catching guy greets you with bouncy hops and want to give you hugs and kisses and once settled, he's happy to lie next to you or sit on your lap for a while if you let him. He's ready to go and do and to meet you and make your day. He's got a fun and playful feel to him but is only now learning about toys and balls~~~fun! His favorite thing now is that he loves fetching and carrying his long handled brush (it is clean and I don't let him chew bristles). Scouting around and checking his surroundings brings him a lot of satisfaction. With some energy to spare, a more active home would be a great match for our furry friend and daily walks/hikes will surely result in even more smiles and tail wags. Because of his bounciness, it would probably be best for him to not be in a home with small children at this point.
He is a pro with "sit" and "lie down" and will offer you his paw. He is smart and eager to learn for a treat. He will need some additional, routine training as normal for 11 month old dogs. He does have a healthy bark but only does so when there is a really good reason, such as if someone comes to your door or when he saw 7 wild turkeys. He sleeps well in a crate at night and will sometimes go into it and lie down on his own.
After a good walk, he's been happy to lie in the sun for a while and just look around or have a quick snooze. He has not shown much interest in birds around a busy bird feeder but if a squirrel runs across his path, he's interested in seeing what that is! Calms down if you rub his belly--that is a favorite of his... Loves dog parks where he can play with other dogs! Simply a happy go lucky curious guy!