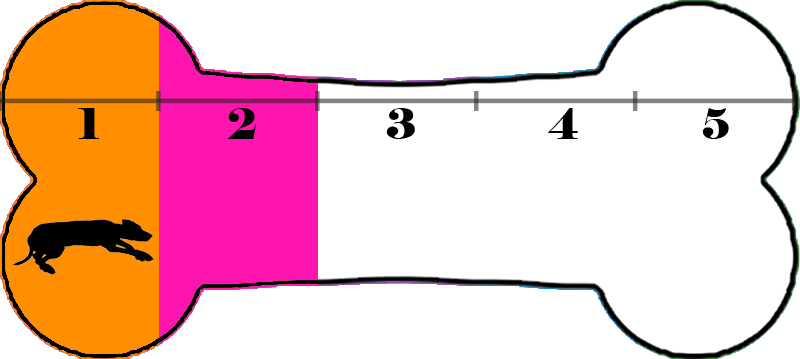 Energy Level 2 - Likes to go for short walks but mostly is a lounger. Does not require much interactive play.
Hi! My name is Black Fish and I am guessed to be a 3 year old retriever mix. I currently weigh 30 lbs. My foster mom says despite being shy at first, I'm a super sweet girl that loves to be with her people and furry siblings. I need someone who will give me time to warm up, but if you are patient with me, I'll repay you with all the love and cuddles you could ever ask for!
Click here to see me in action!
Some fun facts about me:
- Once I trust you, I love attention and affection! I love to be near my people ❤️
- It has taken time to open up in my foster home, but my confident furry foster sister has helped me. I continue to make progress every single day.
- So far, I appear to be low on the energy scale. I like to relax and lounge with you, but I also like to play with toys and play with my furry foster sister sometimes. I really love to chew on bones and stuffies! If you have fuzzy slippers, I might try to steal those too, but if you give me another toy I am easily redirected.
- I do very well in my crate!
- I am puppy-pad trained and picking up on house training.
- After some time, I have learned to walk on a leash and LOVE my walks now!
- I can jump at least 3 feet over a pen, so my foster mom thinks I might be part kangaroo! For this reason, a 6ft+ secure fenced yard would be a huge bonus for me.
There are a few important things that will help me in my forever home:
~ I need another doggie friend. I love my confident furry foster sister! She shows me that humans aren't so scary, and playing with humans and getting pets from them is actually pretty fun. I would do best in a home with another confident doggie sibling to show me the ropes so I can continue to learn how to be brave.
~ I need a couch. It's one of my favorite places! I love to spend time snuggling/lounging with my foster parents on the couch. It's the BEST!
~ A crate is VERY important for me. It is my safe space when I am overwhelmed or if something spooks me - I need to have this space to decompress. I should also eat my meals in there away from my furry siblings. I should get treats separately and be supervised with toys around doggie friends.
~ I need someone patient. I might not be a wiggly pup who runs to you when we first meet, but I will be in time. I just need to trust you.
~ I need time. I need time once I'm in your home to understand you are as nice as my foster family and that I am safe, loved and how things will work here.
~ I would love to be in a suburban or rural environment where it's a bit quieter.
I am a pup that needs time, patience and lots of love before I will reciprocate that love - but once I open up, my foster mom says it's the best reward and I'm the sweetest girl. I promise that once I feel safe, I will repay you with lots and lots of love and make you laugh with my silly antics. If you have a quiet environment with another confident dog and are willing to be patient with me, apply today!
This dog tested positive for heartworm disease before arriving to the rescue. The disease was treated while in foster care. Heartworm disease is transmitted to a dog through a bite from an infected mosquito. With monthly preventatives, the disease is completely preventable. Read about heartworm disease here: Read more about heartworm disease here here