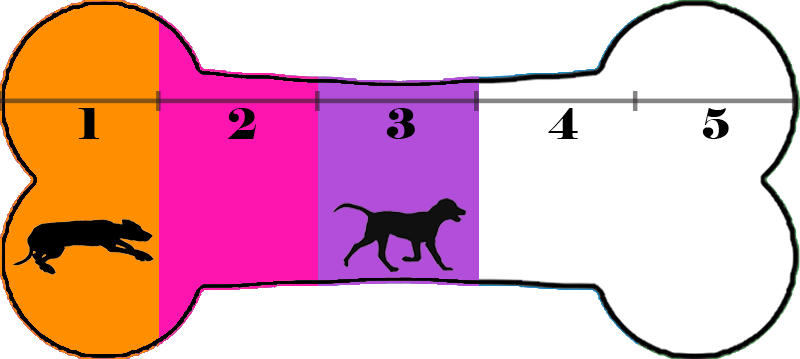 Energy Level 3 - Enjoys walks, mental stimulation, and some playtime.
Hola! Buenos Dias! Bienvenidos to my profile!
My name is Cochinita Pibil and I'm part of the Mexican Food themed transport. I traveled all the way from South Carolina to meet you! I'm guessed to be a 1 year old pointer or hound mix. I'm a sweet, friendly, happy girl and I currently weigh about 25 lbs.
💃 crate trained
💃 house trained at my foster's home
💃 big time cuddler (see pics)
💃 walks well on a leash
💃 plays well with dogs
💃 knows commands (see below)
Click to see me training here. See my goofy side here, and me meeting the neighbors for the first time here. Watch me playing with my foster sister here.
My foster keeps telling me I'm a good girl because I've already learned so many tricks for such a young "ninita"! When my foster says, "Touch" and holds out a hand, I boop it. When he says, "Look", and he touches his forehead, he gets lost in my cute brown eyes. Of course I'll sit when he holds up his hand and asks for it. I'm a polite senorita! When he points to my crate and says, "Crate up", I snuggle in for my "siesta". I'm eager to please and love scritches. Once I am introduced to humans and dogs, I really like to play "tambien"!
I was found as a stray and had a rough start to life. I was starving, under weight, and lost a lot of my beautiful fur because of mange. As a result, the shelter that took me in said I had some minor resource guarding around dogs. My foster hasn't seen any of that with my foster sister or the neighbor dogs, probably because I feel safe now. I've been treated for the mange and that's all in my past now. My beautiful black fur is coming back nicely and my silky locks should be back in a month or so.
I was a little nervous when I first arrived at my foster's DC apartment, but I'm becoming more comfortable with life in the big city. I LOVE playing with my foster sister and the dogs in my building at our dog park. I've also gotten used to city life after living on my own. I really like going on walks, even in our busy neighborhood at The Wharf! I also love to cuddle and watch TV...my version of Netflix and chill. I'm such a happy gal who is just looking for my forever home!
I am named after the Cochinita Pibil, or pulled pork braised in citrus and achiote originally coming from the Yucatan in Mexico. I'm a sweet blend of cute and happy, just like ochinita pibil! So if you want a gal who is "un poquito" spice, "un poco" sassy, and "mucho" sweetness then I'm your "chica"!