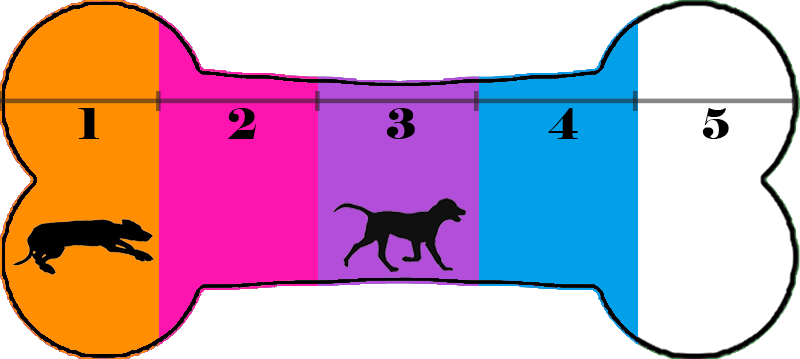 Energy Level 4 - Needs 1 hour of a mixture of off-leash playtime and or mental stimulation every day.
Hi everyone!! My name is Rue! I'm probably about 2 years old, but we don't know my actual birthdate. Since I'm only about 20 inches at the shoulder and weigh about 35lbs; I'm a great size and very manageable! My foster Mom thinks I was probably a stray because I was "skin and bones" when I arrived at the shelter, not anymore though! I also tested positive for heartworms, OPH is taking care of getting me the treatment I need! The good news is that my foster parents will have me pretty much obedience trained by the time I go home with you! If I hadn't been tested you'd never know though, because I'm full of joy and energy at my foster home.
My foster parents' tell me all the time how sweet and smart I am. :-) Even though I was scared of them at first, now I want to be with my humans as much as I'm allowed. I make sure to settle down and nap whenever they're working and I love grabbing a chew toy if I need to occupy myself. Although I'm still a bit shy around new people and scared of sudden noises, I have settled in here beautifully. I love to wrestle and play keep-away with the other dogs who live here and I'm fascinated with the family cat. I don't chase her, but I do like to walk up and lick her all over her face until she gives me a look that means she's going to whack me. That's when it's time to move on to another activity!
I sleep quietly in my crate overnight and know which one to go into when my foster folks say "crate up!" I also quickly learned to sit and lie down when I'm asked and I already know to sit before my food bowl is given to me. I'm doing really well with not having accidents inside too, unless someone here gets sidetracked and forgets to let me out. ;-) My Foster Mom says I would make a lively playmate for another active dog or a possible hiking or running buddy for an active human. Will you be the lucky adopter who makes me a member of the family?
This dog tested positive for heartworm disease before arriving to the rescue. The disease was treated while in foster care. Heartworm disease is transmitted to a dog through a bite from an infected mosquito. With monthly preventatives, the disease is completely preventable. Read about heartworm disease here: Read more about heartworm disease here here