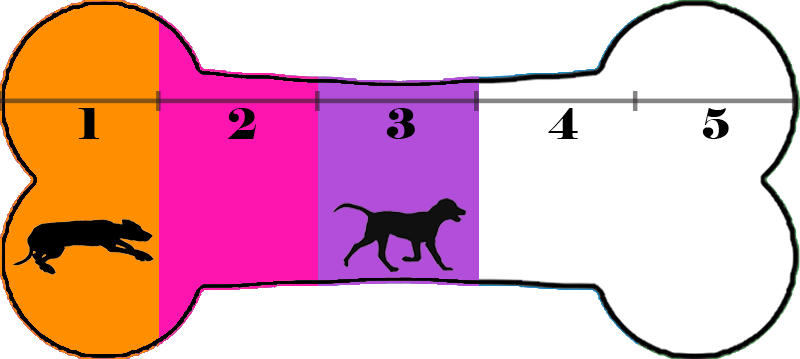 Energy Level 3 - Enjoys walks, mental stimulation, and some playtime.
Hello! My name is Fionnuala ("Fa-nu-la") and I am guessed to be a three-year old Puggle. I have the Pug's playful nature but the Beagle's love of the chase, so I am never allowed to run free as I might pick up a scent trail and take off. My first few months of life were spent with several other little dogs but with minimal human interaction. So while I love to play and snuggle with humans I know, it takes time for me to get to know new people. Could you be one of those new people? Let's find out!
Fionnuala is a beautiful, affectionate, and athletic little dog. She is very loving and gentle with humans she knows, but quite shy and standoffish with strangers. It took two days for her to voluntarily approach her foster mom after first arriving at her new home – at which time she danced for attention and wanted to play! She would do well in a household with small male dogs. She has a conflicted relationship with her foster mom's female GSD, and likely would do best as the sole female dog in her new home.
Fionnuala has the high energy of a young dog, and probably would excel at agility work. She is extremely intelligent, and has quickly mastered basic obedience commands to sit, down, stand, spin, and wait (the last one is still a little "iffy"). In her foster home, she is walked at least twice a day – she loves to dash about in her harness and training lead but will walk quietly at your heel on a martingale collar and leash – and usually has a 10-15 minute play session in the morning followed by about 5-10 minutes of obedience training and a quick cuddle and hand-feeding if there is time. Evenings are usually pretty quiet after the walk. Fionnuala loves to stalk her foster mom during dinner preparation in an effort to score a slice of carrot or potato, and in the mornings is eager to share the breakfast melon or banana. She is quite the omnivore!
A secure fenced yard is a must. Fionnuala would do well in a rural setting, but a suburban home would give her more opportunities to interact with the wider world, and that might be of great benefit in helping her overcome her shyness. She sleeps quietly through the night in her crate, and is largely housetrained. She can be left for the day with no accidents, but might suddenly decide to "spritz" a new or unexpected item she finds in her path. Mindfulness and appropriate corrections during her first few months in a new home should eliminate any issues. She is almost heartbreakingly eager to please, and foster mom takes a very gentle attitude toward her minor transgressions.
Fionnuala is up-to-date on her vaccinations and has been spayed. She has not been tested with cats, but exhibits a high prey drive toward wild lizards and birds. She is currently being fostered in Hanover County, Virginia.