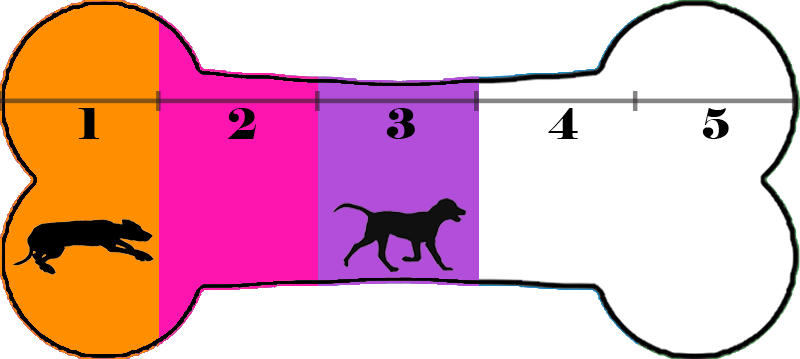 Energy Level 3 - Enjoys walks, mental stimulation, and some playtime.
Meet Corvus! He's sweet, happy, chonky boy 💙 He's guessed to be a spaniel or border collie mix, but he's a pretty chill guy. He's around 6 years old and a medium-sized dog, but at 55 lbs, he has some weight to lose. He was returned to OPH through no fault of his own, and he's back searching for his perfect family!
Click here, here, and here to see him in action!
🐾 Everyone who meets him loves him. No joke!
🐾 He's housebroken, no accidents in the house so far
🐾 Crate trained. He knows to go into his crate when asked. He goes into his crate on his own during the day for naps and sleeps there at night
🐾 Loves to be surrounded by toys! He likes toys of all kinds: balls, stuffed toys, anything squeaky, bones, etc. He keeps himself entertained playing by himself but is also happy to play with his humans 🥰 He seems to like running and fetch but doesn't have a lot of stamina - chonky boy problems!
🐾 He's friendly with people and dogs. He gets a little excited around other dogs - he wants to play!
🐾 He's a great snuggler!
🐾 A+ head tilter
🐾 He's between a 2-3 energy level
🐾 Not a big barker so far. He may join in with his foster brother when he barks, but doesn't usually start on his own. But he will let you know when he thinks he deserves some treats or pets!
🐾 He may have a bit of a prey drive but doesn't seem to pull too hard on the leash to get to something. He tends to walk on the end of the leash and really only pulls to greet other dogs. We've been working on this and he's been responding well to training!
🐾 He's a smart boy! 🤓 He learned commands like sit, come, and crate super quickly and is learning paw and to heel on walks!
🐾 He's a shedder but he loves being brushed
🐾 He was around cats at the vet office and they reported that he was good with them
🐾 Loves everything except fireworks, thunderstorms, and stairs (but only stairs indoors, he's fine on our outdoor stairs)
Corvus is looking for an adopter who is committed to helping him lose weight with diet and exercise. He's such a cute, good natured dog, he'll make an amazing addition to your family. Apply today!