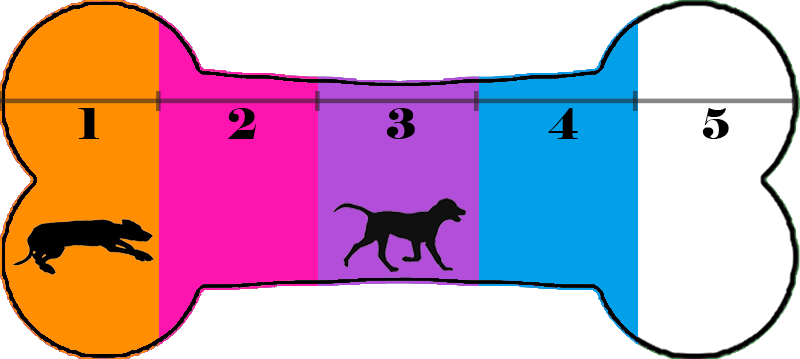 Energy Level 4 - Needs 1 hour of a mixture of off-leash playtime and or mental stimulation every day.
Yoyoma is 8 years old and has been in foster care for awhile, because she wants to be your one and only loyal companion.
She would like to take naps and watch TV with you. When it's time to exercise, playing ball is the activity of choice in a fenced yard, the higher the better. Click here to see her in action!
She'd like to take walks on leash, but doesn't mind staying close to home. Sniffing to discover new smells rather than long walks is just fine with her. She would rather be with you than in large crowds as she is cautious with strangers, but once she gets to know them in familiar surroundings, she is ready for belly rubs. She has played with the fosters larger dogs but prefers to be the only dog in your family. The fosters grandchildren have played ball with her and she likes how they tell her to sit first then to retrieve. Rules and boundaries help her to feel comfortable. She has been waiting for awhile in rescue but only because she is waiting for the right family. If you think you are the right one for her please fill out an application.
Check out my featured adoption video here. It's really good, isn't it? I was a good mom.
Click here, here, here and here to see videos of me having some fun with toys. I can entertain myself.
* Female
* 8 years old
* 47 lbs
* Athletic, Not Hyper but can be Energetic
* Knows some obedience
* Can walk on on loose leash
* Goes in crate on command
* Potty trained (perk! will go in bad weather)
* She is Cautious with strangers and needs slow introductions
* Needs an experienced dog handler
* Muzzle trained, wears muzzle during vetting for prevention
* Prefer to be the only dog
And guess what, I am SO special that I am eligible for an extended trial adoption. You check me out and I check you out. If that all sound great to you, let's meet. Please apply to adopt me today.