Adoption Fee Payments
Please make your adoption fee payment using the payment link in your meet and greet email.
Make a gift. Save a life today.
Your gift to Operation Paws for Homes will immediately help us to save animals in need!
OPH depends on donations from generous people like you to provide the medical, transportation, fostering, and adoption services needed to place 1,200 homeless dogs and cats in forever homes each year.
Did you know that many corporations offer employee giving programs where they match donations to Operation Paws for Homes? Check with your employer today to see if they provide matching gifts!
Our rescued dogs and cats are cared for throughout their adoption journey, from before they leave the shelter in the transport van to the day they're welcomed with open arms by their adopters. Adoption fees help offset our expenses, but do not cover all of the services that are needed and provided by OPH.
How you can help.

$25 provides vaccines for a small puppy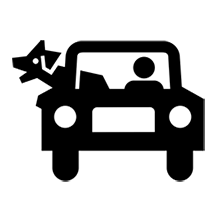 $75 transports one animal up to 600 miles to safety

$100 spays or neuters a dog and prevents an unwanted litter

$200 covers respiratory treatment for one dog

$500 funds lifesaving heartworm treatment for a dog

$1,000 funds lifesaving tumor removal for one dog
Donate Online
Donations can be made online through our secure website or via PayPal.
Donate by Check
To make a gift by check, please make your check payable to Operation Paws for Homes and mail to
Operation Paws for Homes
P.O. Box 35606
N. Chesterfield, VA 23235
Donate Your Vehicle
Operation Paws for Homes has partnered with the Melwood Foundation to accept vehicle donations. For information on how to donate your vehicle to us call 1-877-MEL-WOOD
Donate While Online Shopping
Did you know you can shop and support OPH at the same time? Learn more here about additional ways to give.
---
Your donation that is made in support of a campaign will be used to fund that campaign or assist that specific animal. Don't worry - if the funds raised exceed the goal set for a campaign, the extra funds are used to support our mission. We appreciate your support!
Operation Paws for Home is a registered as a 501(c)3 nonprofit in the US. All donations are tax-deductible. Tax ID: 45-2785962. Thank you for your support of our mission!
Please note that we proudly recognize the names of individuals and funders who give $250 or more within a calendar year on our website. If you would prefer to remain anonymous, please email donate@ophrescue.org. Thank you for your support of our mission!