Do you use Amazon to shop? Did you know you can shop and support OPH at the same time? Adding OPH to your shopping trips is easy. For Amazon, simply go to - http://smile.amazon.com. Select "Operation Paws for Homes" as your choice of Charity. Then shop! It's literally that easy and you can get done shopping and know you helped to save dogs and cats at the same time.
Make a dog or cat's wish come true with our Amazon Wishlist. We have gathered a list of favorite toys, treats, bones, chews, medical supplies and other cleaning items our foster homes use on a regular basis. Help us treat our foster animals to something special and keep our supplies stocked in our foster homes!
Operation Paws For Homes is proud to be a Partner for Pets! BISSELL and LostPetUSA.net have teamed up to help organizations like ours to raise money, and now you can help too! When you purchase pet products on bissell.com and enter the code ADOPT at checkout, a portion of your purchase will be donated to our organization.
Realtors to the Rescue is a nationwide referral program to benefit OPH. Are you thinking of buying or selling a home? Make it a moving experience and learn how your transaction can trigger a $1000 donation in your honor to OPH and how you can get a $1000 buyer closing cost credit. Visit Realtors to the Rescue website to learn more.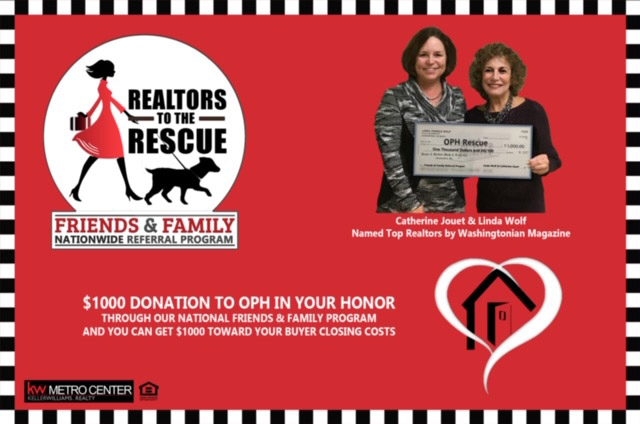 Support us simply by walking your dog! Use the app each time you grab for the leash. It's healthy for you, your dog, and OPH. The average donation is 25 cents per mile. Find Operation Paws for Homes listed under Alexandria VA, Baltimore MD, Hanover PA and Washington DC.
OPH is a proud partner with Chewy Dog Food! Place your online order via our Chewy site and OPH will receive a $20 dog food credit towards purchasing food for all of our foster dogs! Chewy has a huge selection of pet food, treats and supplies delivered straight to your door!
Fast, FREE shipping
24/7 customer service
Cheaper than your local store
Save 20% off your first autoship order